[Kulcloud] SDN Open mul controller containter's repository
What is OpenMul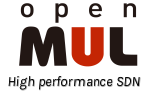 This documents how to use the OpenMUL, which provides a SDN Controller
Open Mul is an Openflow / SDN controller platform. It has a C language based multi-threaded infrastructure at its core. It supports a multi-level north bound interface for hosting applications. It aims to support various SDN enabling south-bound protocols such as Openflow 1.4, 1.3 and 1.0 along with ovsdb, of-config etc.
It is designed for performance and reliability which is the need of the hour for deployment in mission-critical networks. It is also highly flexible, modular and easy to learn. If you are looking for a blazing fast and robust SDN platform, here is what you have been missing. Mul means "base or root" in Sanskrit. Mul is pronounced "mool" as in "school".
We are developing enterprise grade real industry use-cases to showcase the disruptive nature of SDN in various areas.
Installation
Install Docker, either using a native package (Linux) or wrapped in a virtual machine (Windows, OS X – e.g. using Boot2Docker or Vagrant). To pull this image from the Docker registry, open a shell prompt and enter:
$ sudo docker pull kongseokhwan/open-mul:latest

Usage
######Usage Run the container from the image with the following command:
$ sudo docker run --net=host -p 6653:6653 8181:8181 -it --name mul kongseokhwan/open-mul:latest
6653 (Openflow Protocol Interface).
8181 (North Bound Rest API Interface).
Note - Openflow switch has to configure controller port as 6653.
At the prompt, enter:
# service restart mul

If you need more help contact us :
contact@kulcloud.net
kongseokhwan