Database of accidents in the Czech Republic / Databaze dopravnich nehod CR
Database of car accidents in the Czech Republic (2007 - 2013)
This is Docker image with Elasticsearch and Kibana installed. Elasticsearch is filled with data downloaded from http://pcr.jdvm.cz/pcr/. There are data from 2007 to 2013. After run port 5601 is exposed. Publish this port and point web browser on it - you should see default dashboard in Kibana.
You can see demo here: http://nehody.ludekvesely.cz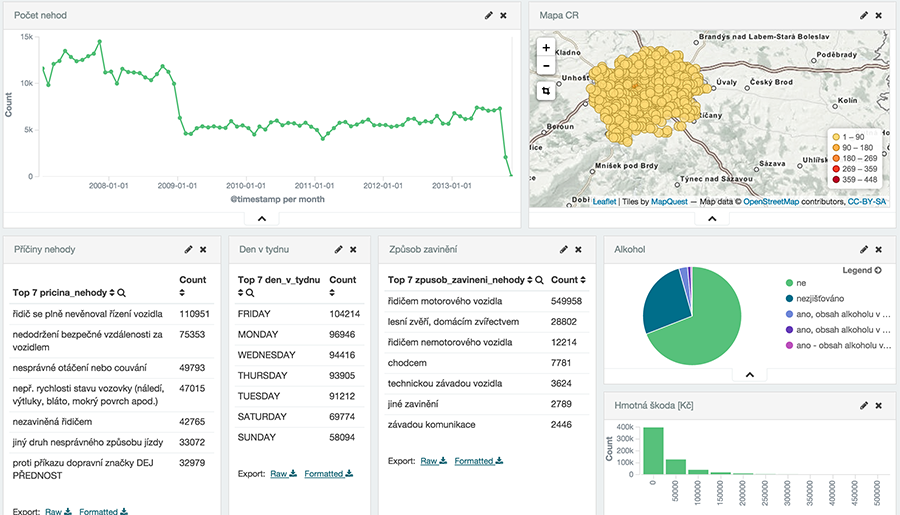 ---
Databaze dopravnich nehod CR 2007 - 2013
Docker image s nainstalovanymi Elasticsearch a Kibana. Po spusteni je Kibana dostupna na portu 5601. V Kibane lze prohlizet grafy, tabulky, filtrovat vizualizace podle ruznych parametru.
Stazeni a spusteni:
docker pull ludekvesely/nehody:latest
docker run -p 5000:5601 ludekvesely/nehody:latest

Po spusteni je Kibana dostupna na portu 5000. Vice informaci na www.ludekvesely.cz/databaze-dopravnich-nehod-cr/.
ludekvesely