sFlowTrend and sFlowTrend-Pro performance monitoring software
sFlowTrend and sFlowTrend-Pro
This is the official docker repository for InMon's sFlowTrend and sFlowTrend-Pro products. sFlowTrend and sFlowTrend-Pro use sFlow to monitor and analyse network and system performance in a user-friendly way.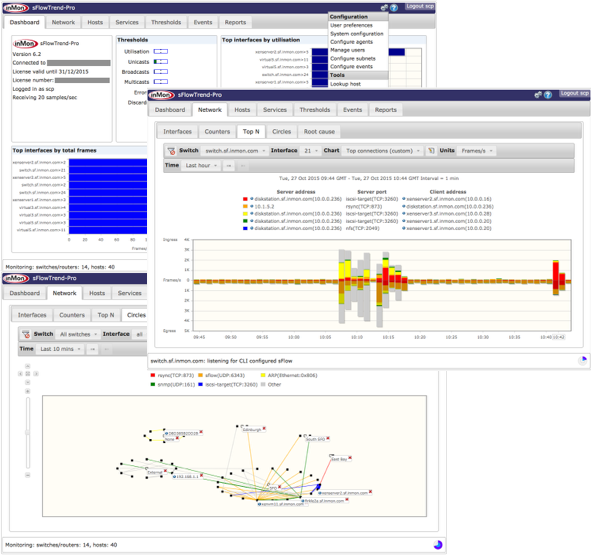 For more discussion about sFlowTrend and sFlowTrend-Pro see the sFlowTrend blog.
How to run sFlowTrend and sFlowTrend-Pro in docker
Start the application using the command:
docker run -v /var/local/sflowtrend-pro:/var/local/sflowtrend-pro -p 6343:6343/udp -p 8087:8087 -p 8443:8443 -h sflowtrend-pro -e TZ=Europe/London -d --restart unless-stopped sflow/sflowtrend
Explanation of some of the options:
-v /var/local/sflowtrend-pro:/var/local/sflowtrend-pro defines the location of the sFlowTrend-Pro home directory on the host. If you omit this parameter, then the data will be stored in a docker volume, but not be reused when restarting sFlowTrend-Pro. You can of course use a different directory on the host for the data, e.g. -v /tmp/sFlowTrend:/var/local/sflowtrend-pro
-p 6343:6343/udp -p 8087:8087 -p 8443:8443 publishes the ports required for sFlowTrend-Pro to operate. You can change those used as required, but if you change the sFlow port (6343) you will need to also configure your switch infrastructure accordingly.
-h sflowtrend-pro provides a friendly hostname for the container, which is visible in sFlowTrend-Pro's dashboard. This hostname is also used by the license for sFlowTrend-Pro, as the license is keyed to the hostname.
-e TZ=Europe/London sets the timezone. This is important, as all charts, etc, shown in sFlowTrend-Pro are in the server's timezone. You should set this to your local timezone, using the valid Linux timezone identifiers.
Once the container is running, you can connect to it using a browser on port 8087 (for http) or 8443 (https). The initial dialog requires you to configure the sFlowTrend or sFlowTrend-Pro license. Either click the checkbox to use free sFlowTrend, or enter a valid license number for sFlowTrend-Pro. You can request an evaluation license, or buy a license, for sFlowTrend-Pro from https://www.myinmon.com.
SNMP configuration of sFlow switches
sFlowTrend-Pro has the ability to configure sFlow automatically, using SNMP, on some switches (e.g. HP and Alcatel). For this to work, sFlowTrend-Pro needs to know the address and sFlow port to use as the sFlow receiver address. If sFlowTrend-Pro is running behind a NAT device, then it cannot automatically determine the address and port. As the default docker network uses NAT, this means that SNMP configuration of sFlow will not work correctly. The next version of sFlowTrend-Pro will allow the externally accessible NAT address to be specified in sFlowTrend-Pro. Until then, there are two workarounds:
Add the parameter --network host to the docker run command. This runs sFlowTrend-Pro in the host network, using the host's address, and so avoids the use of NAT.
Configure sFlow on your switches using the command line interface, making sure to use the address and published port of the host for the sFlow collector.
Note: this only applies to configuring sFlow via SNMP, and is not relevant if you use sFlow configured in the command line interface on your switches. It also does not affect sFlowTrend-Pro's use of SNMP to retrieve switch information such as interface names.
License
Please read and accept the license agreement before downloading this software.
sflow