Traffic Sentinel provides real-time network visibility to manage large complex networks.
InMon Traffic Sentinel
Traffic Sentinel provides real-time network visibility to manage large complex networks. An intuitive drill-down interface simplifies navigation through detailed network data to quickly find answers.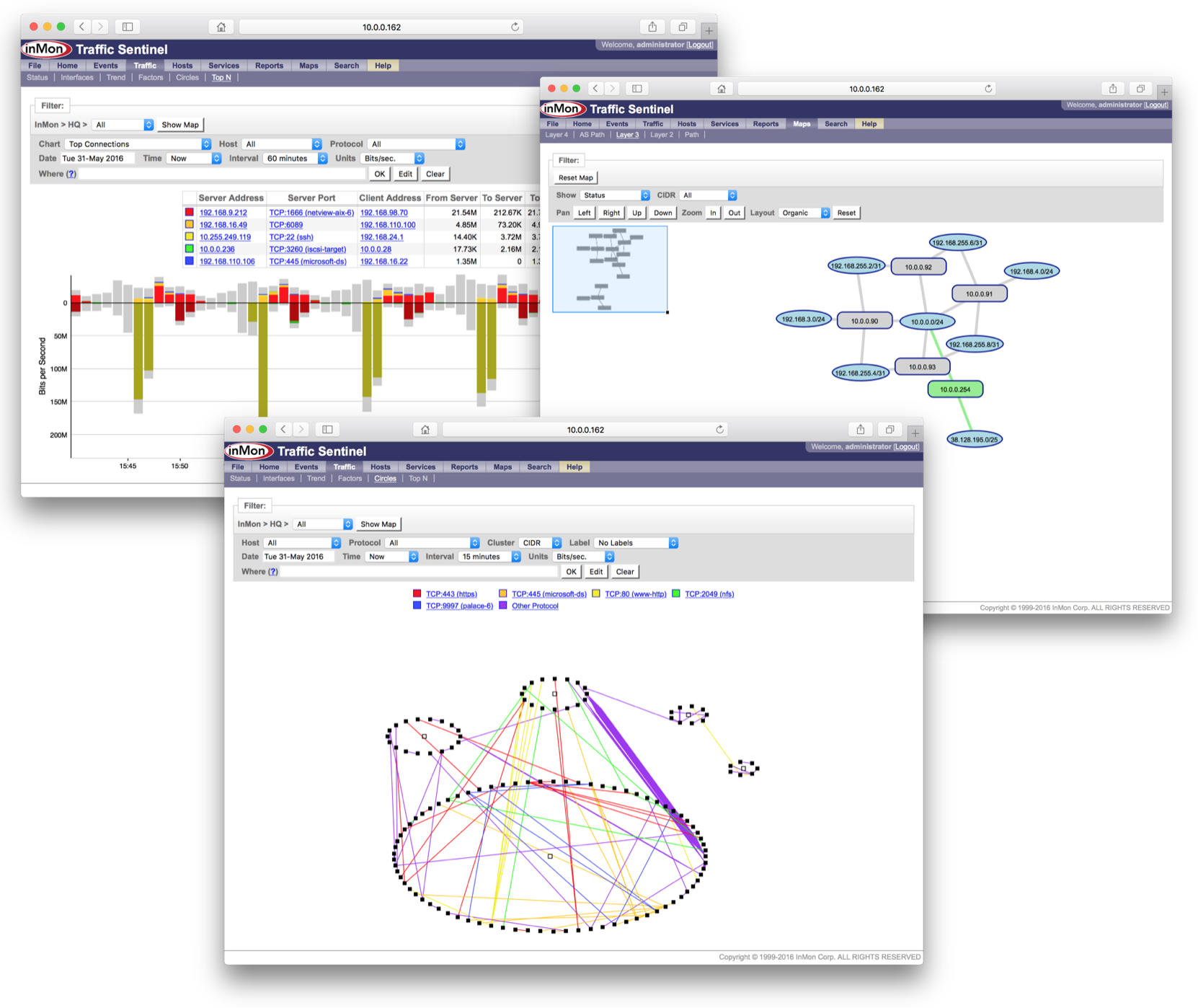 Traffic Sentinel makes use of embedded instrumentation within switches, routers, load balancers, and servers. Industry standard sFlow provides the richest information, greatest scalability, and is supported by the largest number of vendors (see sFlow Capable Devices). Traffic Sentinel also accepts IPFIX and a number of proprietary monitoring technologies, including: Cisco NetFlow, Juniper J-Flow, and HP Extended RMON. The use of embedded switch and router monitoring eliminates the need for probes, is simple to deploy, cost effective, and provides detailed network-wide visibility.
How to use this image
First, create an account on MyInMon.com and request a free Traffic Sentinel evaluation. When requesting the evaluation, you will need to provide a fully qualified domain name for the server running the software and will be sent a software key that matches the domain name. You can make up a name within your organization's domain, for example, sentinel.inmon.com.
Download the Traffic Sentinel (64bit Debian/Ubuntu, Java 1.7+) file. The file should have a name with the pattern Redhat-CentOS-Fedora-inmsf-*-x86_64.tgz, e.g. Redhat-CentOS-Fedora-inmsf-8.1.8-x86_64.tgz
Next, create a directory called inmsf to store the application state. Copy / move the installation file into this directory.
Finally, run the software
docker run -v $PWD/inmsf:/usr/local/inmsf -p 80:80 -p 6343:6343/udp -h sentinel.inmon.com sflow/traffic-sentinel

Web User Interface
Access the web interface at http://localhost/ and follow the steps in Configuring Traffic Sentinel - step by step guide.
Additional settings
The above settings are sufficient to collect and report on sFlow. Additional settings may be required to address additional use cases:
-p 443:443 to enable HTTPS access. When connecting to https://localhost/ you will probably get a warning stating that this is an untrusted site. Click to ignore the warning.
-p 4739:4739/udp to receive IPFIX records.
-p 9985:9985/udp to receive NetFlow records.
--network=host, -p 19985:19985/udp, and -p 26343:26343 if SNMP is being used to configure sFlow/XRMON. These settings are typically not required since configuration is typically performed using device CLI.
Upgrading Traffic Sentinel
Replace the Traffic Sentinel installation file in the inmsf directory with a new version and restart the docker image.
sflow