Very light (19MB) adminer with full capabilities!
dehy/adminer
Adminer is a full-featured database management
tool for the web. It is a lightweight alternative to setting up phpMyAdmin.
This is a very minimalist docker image that eases setup.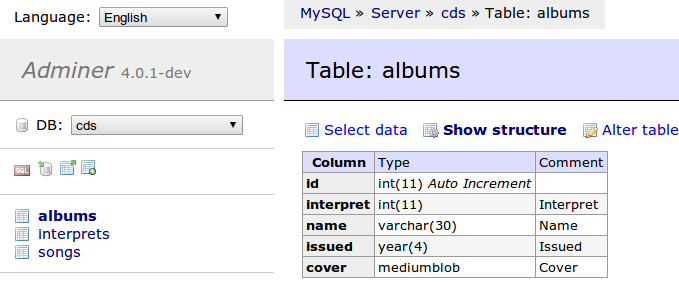 See also online demo.
Usage
This docker image is available as an automated build on the docker registry.
The following databases are supported by this docker image:
MySQL
PostgreSQL
SQLite
SimpleDB
ElasticSearch
MongoDB
Unsupported databases (TODO) :
The recommended way to run this container looks like this:
$ docker run --link=mysql:mysql -d -p 80:80 dehy/adminer

The above example exposes the Adminer webinterface on port 80, so that you can now browse to http://localhost/
This is a rather common setup following docker's conventions:
--link={database_container}:{alias} will link a separate database_container (MySQL, PostgreSQL, ...) to this container, thus make possible to connect to it via adminer with alias hostname
-d will run a detached instance in the background
-p {OutsidePort}:80 will bind the webserver to the given outside port
dehy/adminer the name of this docker image
Docker Cloud
dehy